WEnRV travel news, products, and industry trends
Stay up-to-date on RV travel news, products, and trends from around the world. Stay updated on all RV news from many online source, on WEnRV.com
7 minutes reading time
(1327 words)
A DIY Nomad Charts Her Own Course
"Conventional" has never been part of this RV traveler's vernacular. After selling all her personal belongings and hitting the road in a 1978 Dodge Commander, Jessy Mueller set off on a solo RV journey that doesn't seem to be losing any steam. Since 2017, her approach to deliberate living has slowly taken her around the country, living in the moment while sharing the joy, humor, and unfiltered moments of nomadic life along the way on her blog and on Instagram.
Before her great escape, Jessy was a 30-something single from Minnesota who was looking for a change. After 14 years working pizza delivery and later in marketing and branding, she began saving money for her future rolling digs. Following a solo vacation to Colorado, she came home inspired to make her daily life more centered around nature, travel, and living with less. For her, RV life was the answer.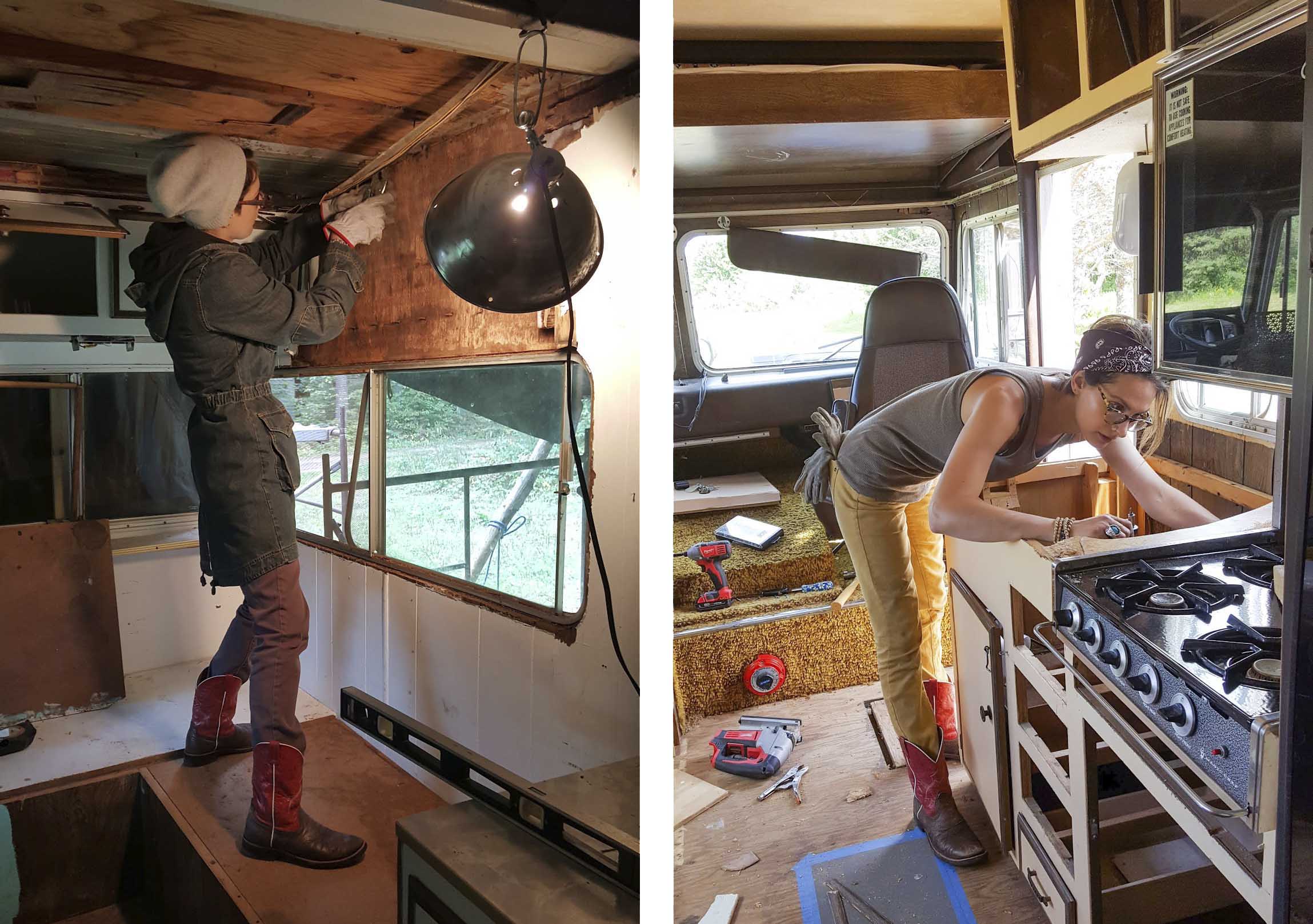 Jessy Mueller carries out repairs on the RV's wooden walls (left) and renovates cabinetry in the kitchen.
Renovation Rejuvenation
Without experience in renovations or even RV travel, she scoured Craigslist until coming across her vintage Dodge Commander motorhome. With extensive water damage in the back, she spent over a year rebuilding the walls and ceiling, while also remodeling the rest of the RV. With intentions of mostly boondocking, she installed solar panels and ditched the original toilet for a compost toilet. For many, this kind of a project would seem overwhelming, but Jessy doesn't shy away from challenges.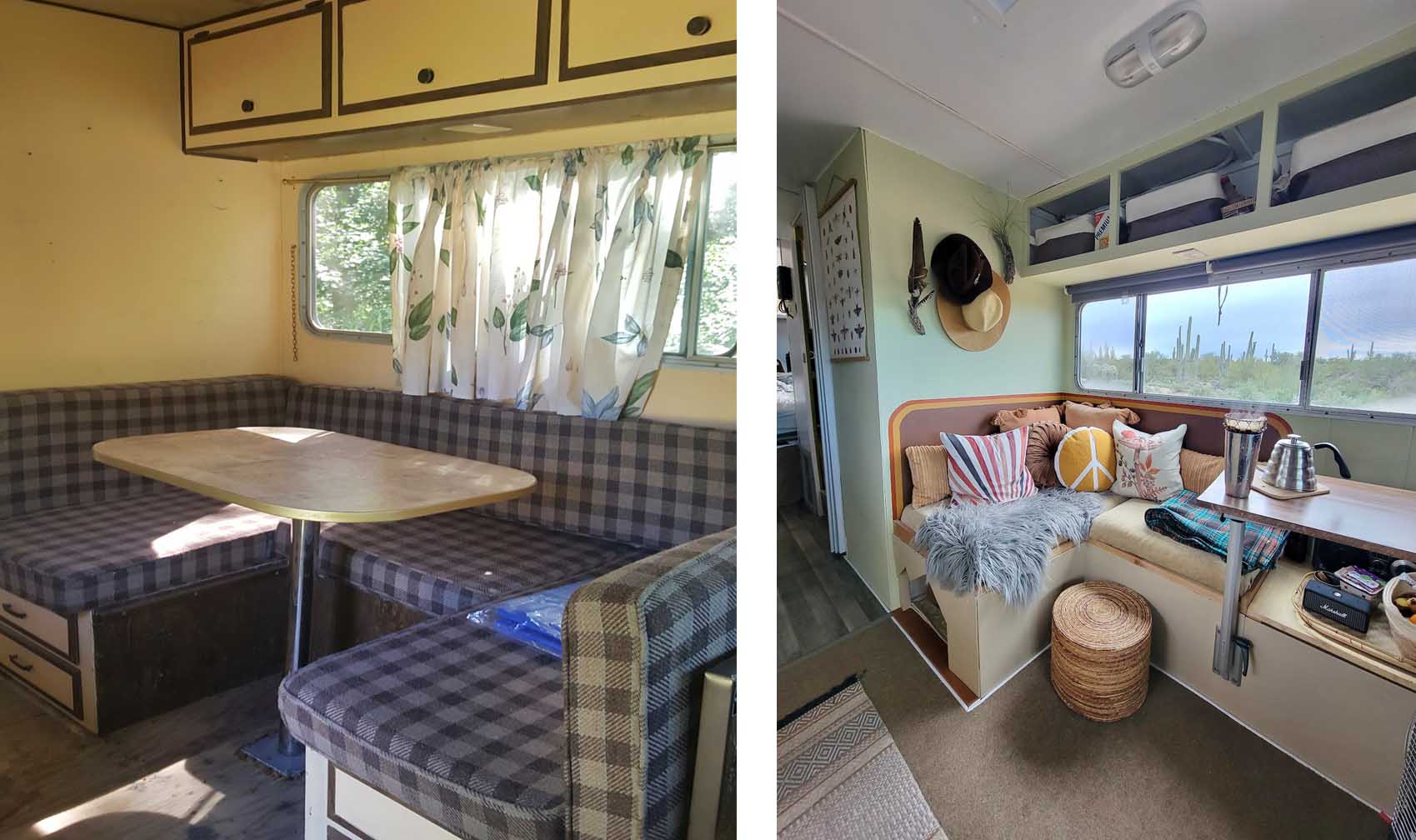 Before and after dining area: Staid cushions and table (left) are replaced by a new configuration with a swivel tray table.
"I've learned that I am far more capable than I ever gave myself credit for," she explains. "I really love using my ingenuity to solve problems and there hasn't been a problem I couldn't solve yet."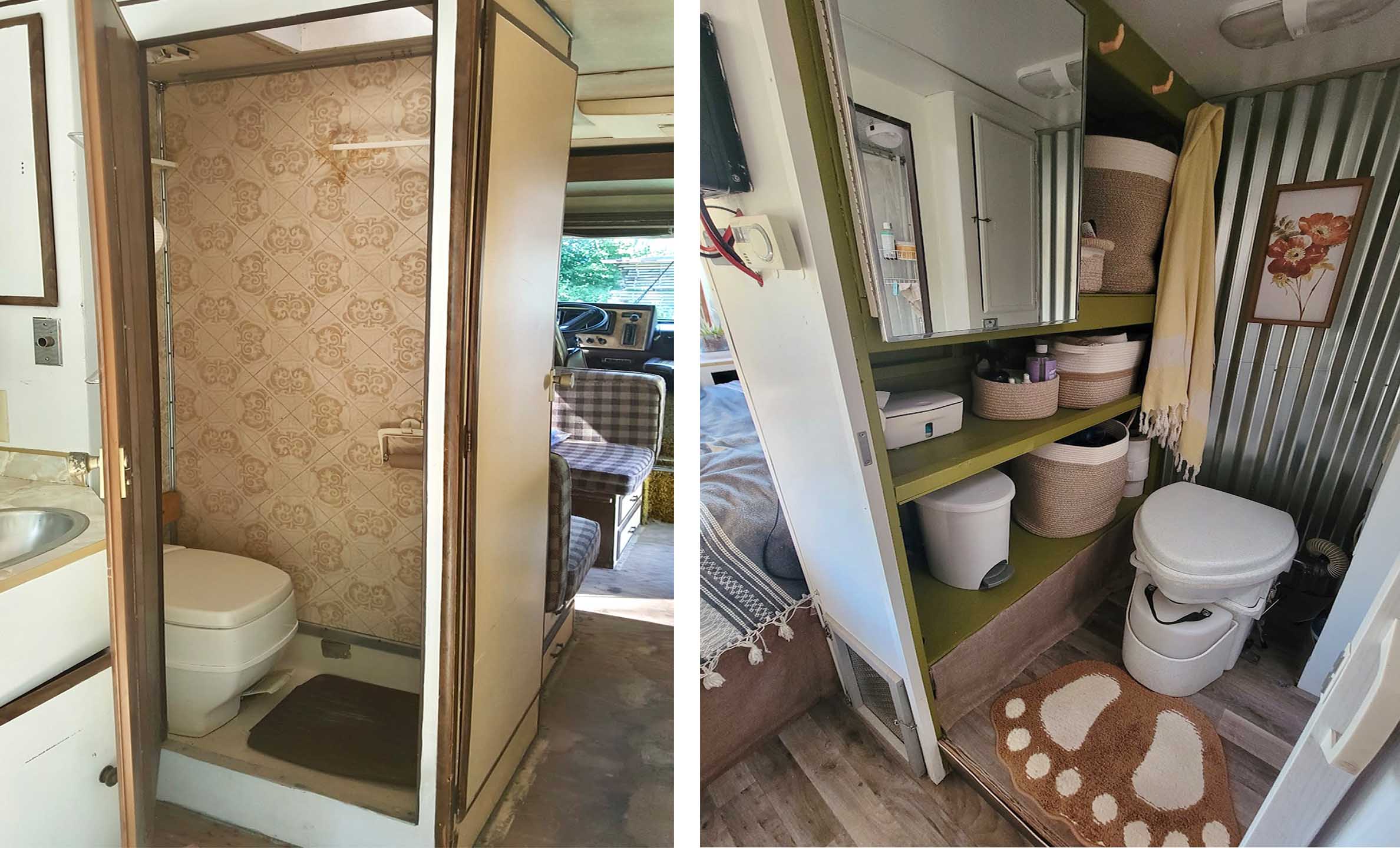 The motorhome bathroom has been updated (right) with a compost toilet, more space, and storage areas.
Her thirst for self-reliance doesn't stop there. Jessy's also her own mechanic. Like any rig on the road, mechanical issues arise in the Commander, especially when dealing with 40-year-old parts and systems. When asked how she learned her impressive mechanical skills, she explained, "I'm self-taught and I've learned through doing. I've gotten over-the-phone help from a few mechanically savvy friends but most of the time, I dive in and figure it out as I go. The biggest project I've taken on was pulling my radiator to have it patched, replacing all coolant-related parts, and reinstalling it.

Changes in the bedroom resulted in a roomy, more modern sleeping area with counter space.
"Everything had been attached for 40+ years, so it was a hard-won battle."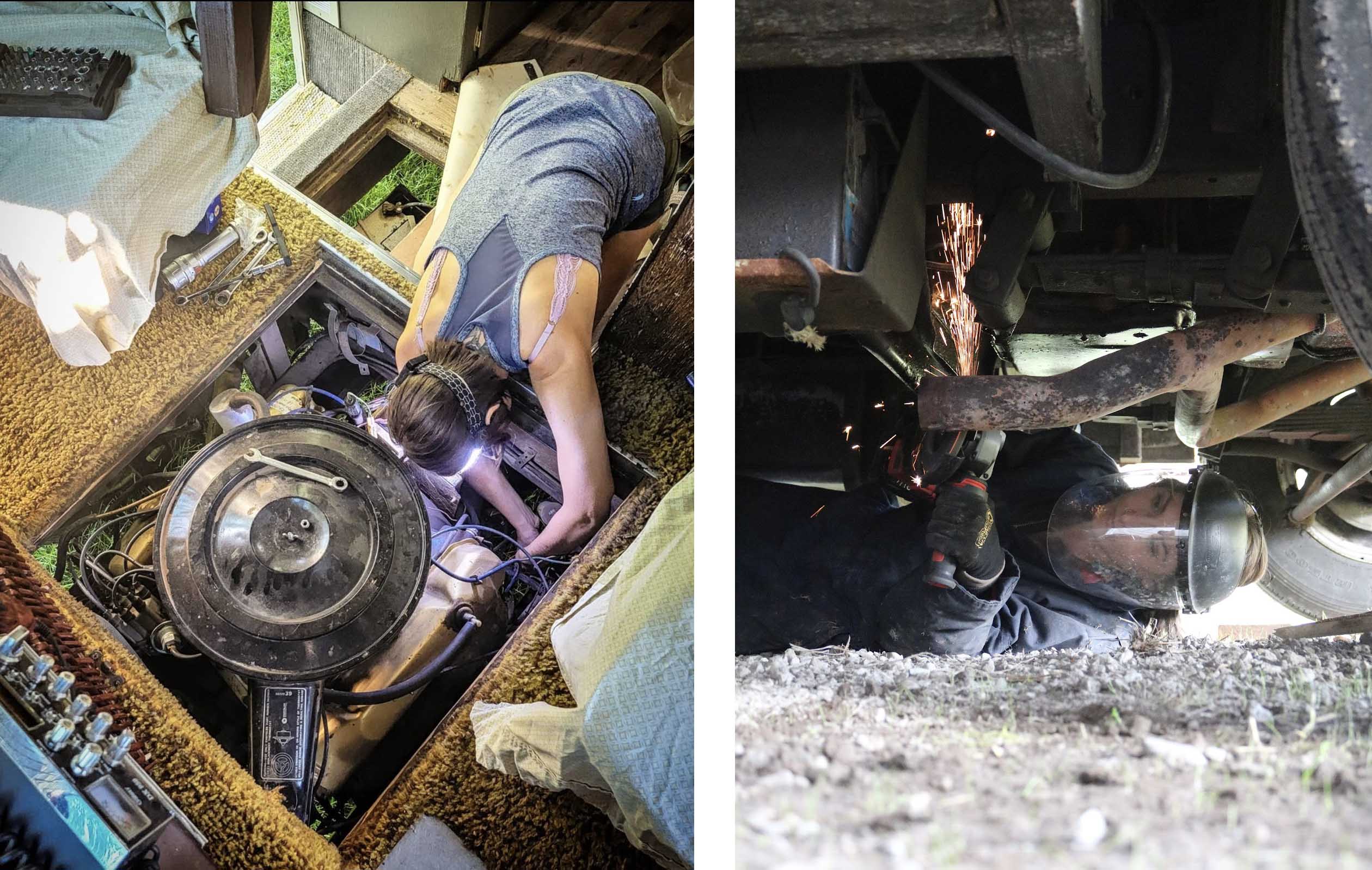 Repairing the engine from the living area (left); sparks fly while working under the vehicle (right).
How to Hit the Highway
After completing the renovation, she hit the road with her cat in tow with a plan to live off-grid on public land. While many RVers quickly bounce from one destination to the next, Jessy takes a much slower approach. Preferring to max out stays on public land, often she'll set up camp for a few weeks at a time before moving to the next location. This way of travel saves on gas and affords more time to explore as well as work. "I try to stay put more than I drive, so a typical day usually involves working, walking around with my cat, and spending time admiring the beauty around me."
Though some travelers are older retirees with a comfortable nest egg, many of today's RVers travel without that kind of safety net and have to seek out new ways to afford the lifestyle. Over the past few years, content creation has become a popular revenue stream, especially for full-time RVers like Jessy. Through this work, not only has it provided a means to work on the road, but it's also a great resource of encouragement and advice for others considering RV life.
"This is a lifestyle that can be very affordable," says Jessy.  "In fact, many people turn to it as a way to climb out of debt. Everyone's financial situation is different but it's easier now, more than ever, to earn an income remotely."
Receiving Inspiration and Insights
While her journey has helped inspire others, she often looks to other digital nomads for insight. "Right now, I am pretty focused on growing my brand. Having a business mindset has not come easy to me, so I am inspired by other creatives that have the business end dialed in. It's been fun to develop a side of me I didn't think existed and I am happy there are other creatives to show me that it can be done!"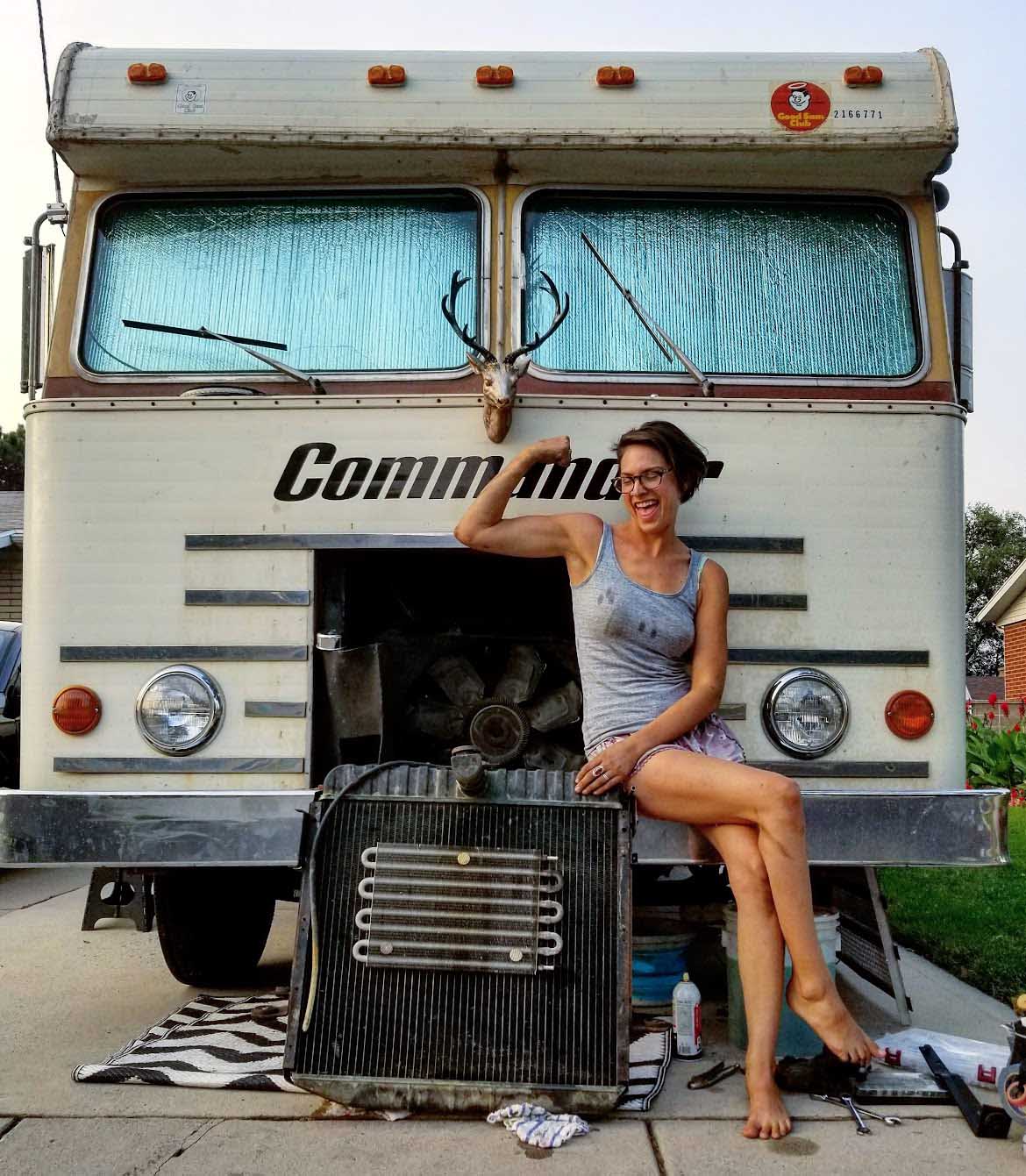 Taking a break after the removal of the radiator, one of the most challenging renovation tasks.
In the past, things like traditional 9-5 jobs, RVing with kids, or traveling as a single female kept many potential travelers at bay, but over the years, more and more people have discovered that these are no longer obstacles. Now more than ever, women are taking the driver's seat and not allowing fear of traveling alone to stop them from enjoying the journey. "The world can be a scary place for a woman but I haven't found this lifestyle to be any more scary or dangerous," she says. "If anything, I feel much safer out where there are fewer people and in a home that can move if I feel uncomfortable.
"Don't let the patriarchy keep you from living life the way you want to live it. There are tons of solo women out here that will have your back if and when you decide to take the leap."
With organizations like Sisters on the Fly, RVing Women, Van Life gatherings, and a bevy of dedicated Facebook groups, there are dozens of supportive communities out there for female travelers. "I've met tons of fellow nomads, oftentimes while camping next to one another. It's been wonderful to meet so many like-minded people, for what feels like the first time in my life."
Thrilling Vistas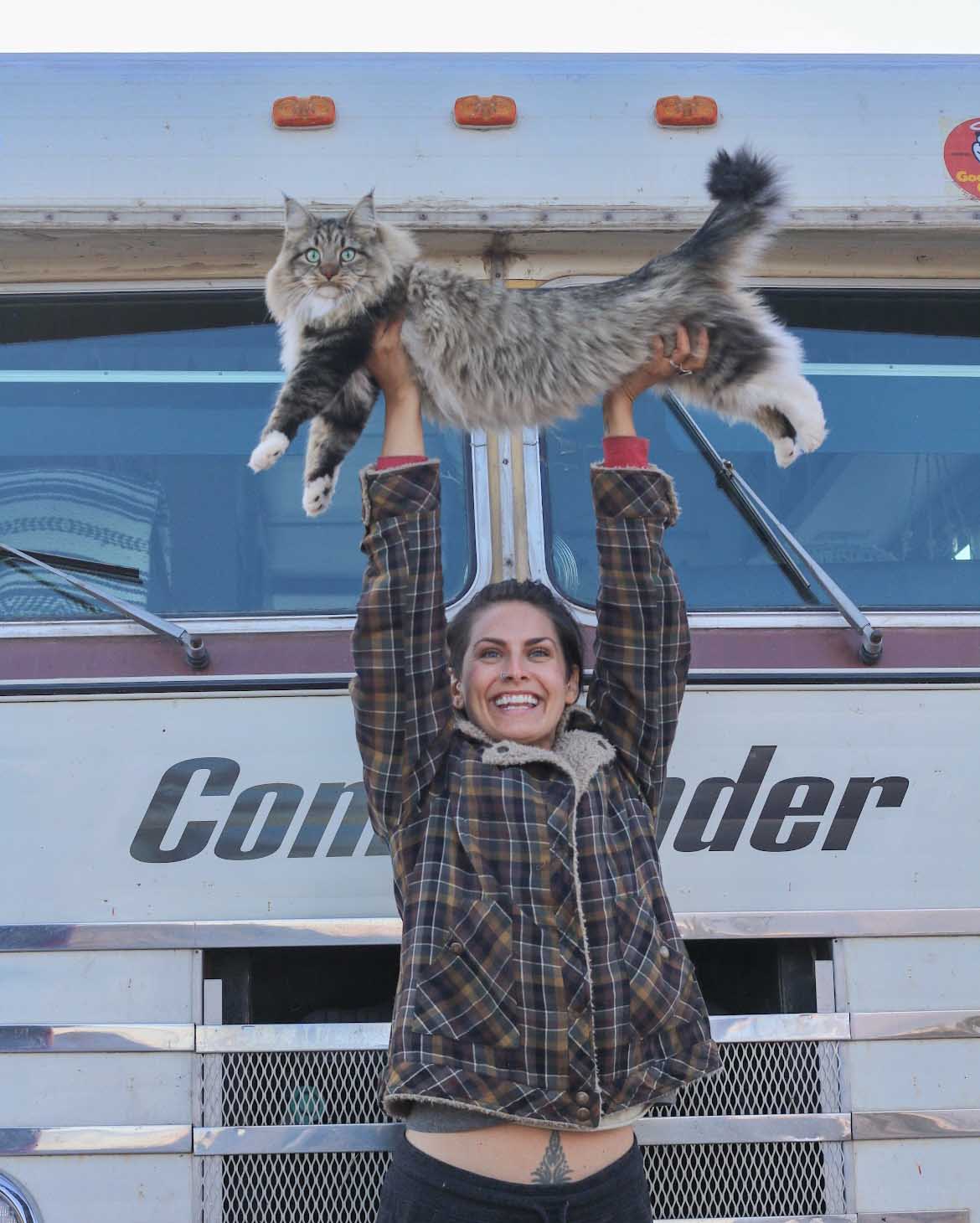 Jessy celebrates life on the road with Moonchi the cat.
What keeps her engine revving? "Getting to call so many absolutely stunning places home, for free!" she says. Since embarking on her maiden voyage, she's explored much of the Western US and Mexico, with highlights including camping on the beach during the New Year, hiking barefoot in White Sands National Park, sitting in a clawfoot bathtub filled with hot spring water along a river, and watching wild horses play outside her window in Nevada. After years of single living on the road, she met her now partner, Jason, a fellow RVer, and the couple along with her cat Moonchi explore the country together in their own separate rigs.
It can easily be said that Jessy's journey should not only be measured in miles but in personal growth. Whether it's bumps in the road or dents on the bumper, all the moments of joy and hardship have shaped her life and offered wisdom. "RV life has changed my life in almost every way for the better. I now work for myself, I spend most of my time in nature, I've become a pretty decent mechanic, I get to explore new places regularly and I value experiences over possessions. I'm much happier living an intentional life, even if it is more difficult. It's been a wild ride and I've grown immeasurably as a person since hitting the road. I'm so grateful I decided to take the leap!"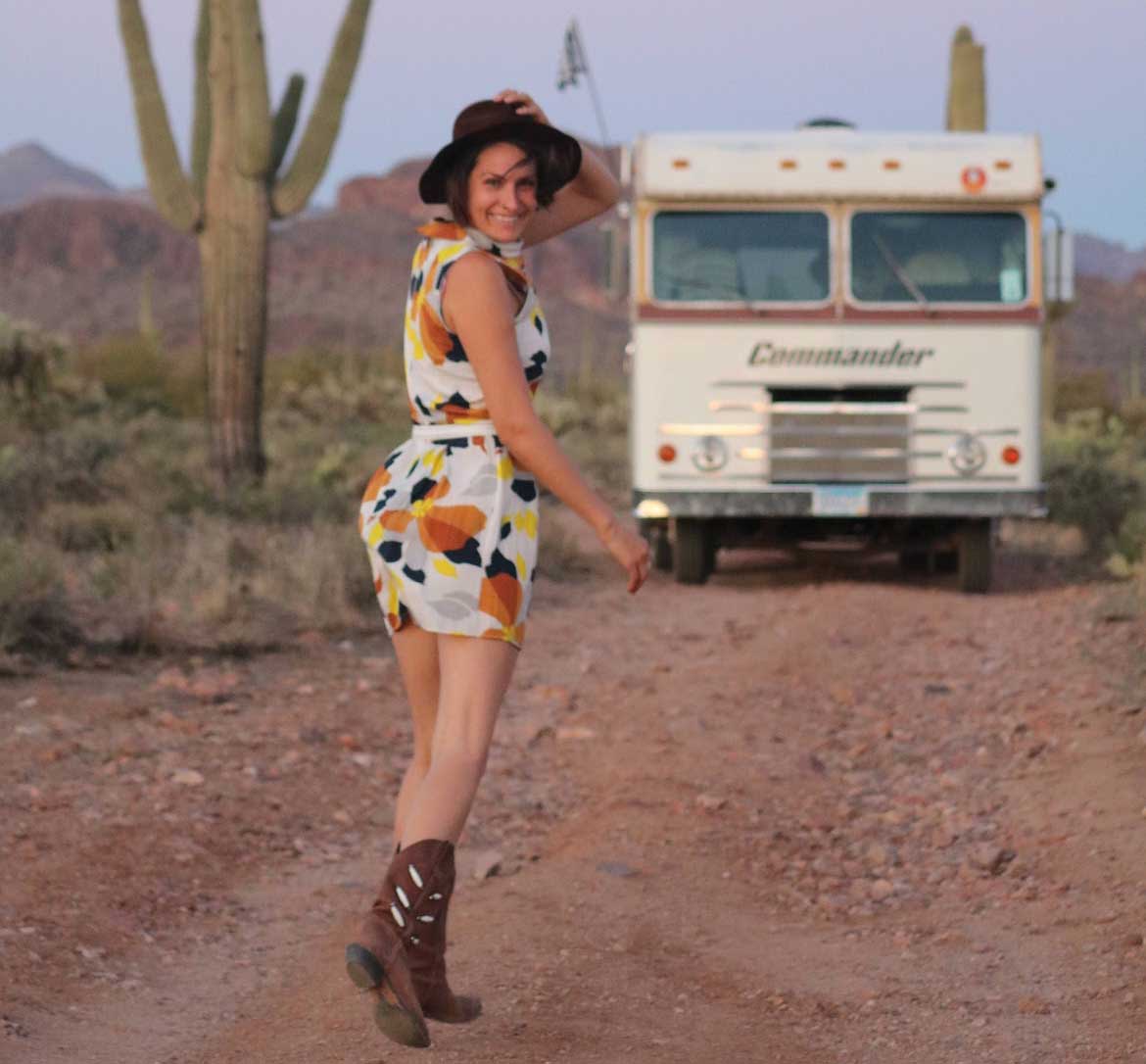 Camping on public lands, Jessy prepares for more travels on America's open roads.
For those contemplating this lifestyle, check out her e-guide, called Vanlife: Your Guide To Becoming a Modern Nomad. You can also follow her adventures on Instagram @slowroamer where she shares tips, jokes, and everything in between.
Photos by Jessy Mueller
The post A DIY Nomad Charts Her Own Course appeared first on Good Sam Camping Blog.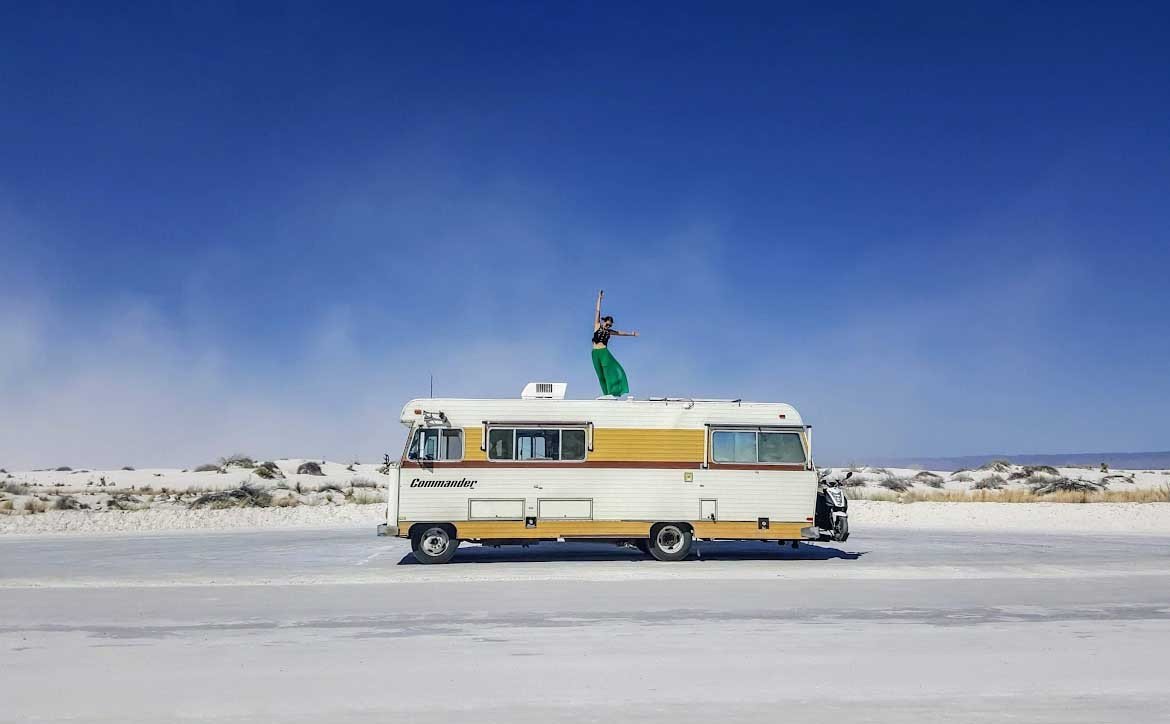 Copyright
© Good Sam Camping Blog