WEnRV travel news, products, and industry trends
Stay up-to-date on RV travel news, products, and trends from around the world. Stay updated on all RV news from many online source, on WEnRV.com
5 minutes reading time
(1060 words)
Campground Review: Cherry Hill Park Near Washington, D.C.
Urban camping isn't for everyone, but if your camping adventures take you to Washington D.C., you should take your RV along, as one of the nation's best campgrounds provides a perfect base camp for exploring the city. Cherry Hill Park, located in College Park, Maryland, offers an outstanding camping experience and easy access to the nation's capital. 
While my family had a lengthy debate while picking our summer road trip destination, once we selected Washington, D.C., we didn't have a hard time choosing a place to stay. Cherry Hill Park is a renowned camping destination that visitors brag on far and wide. We were eager to camp at a park we had already heard so much about.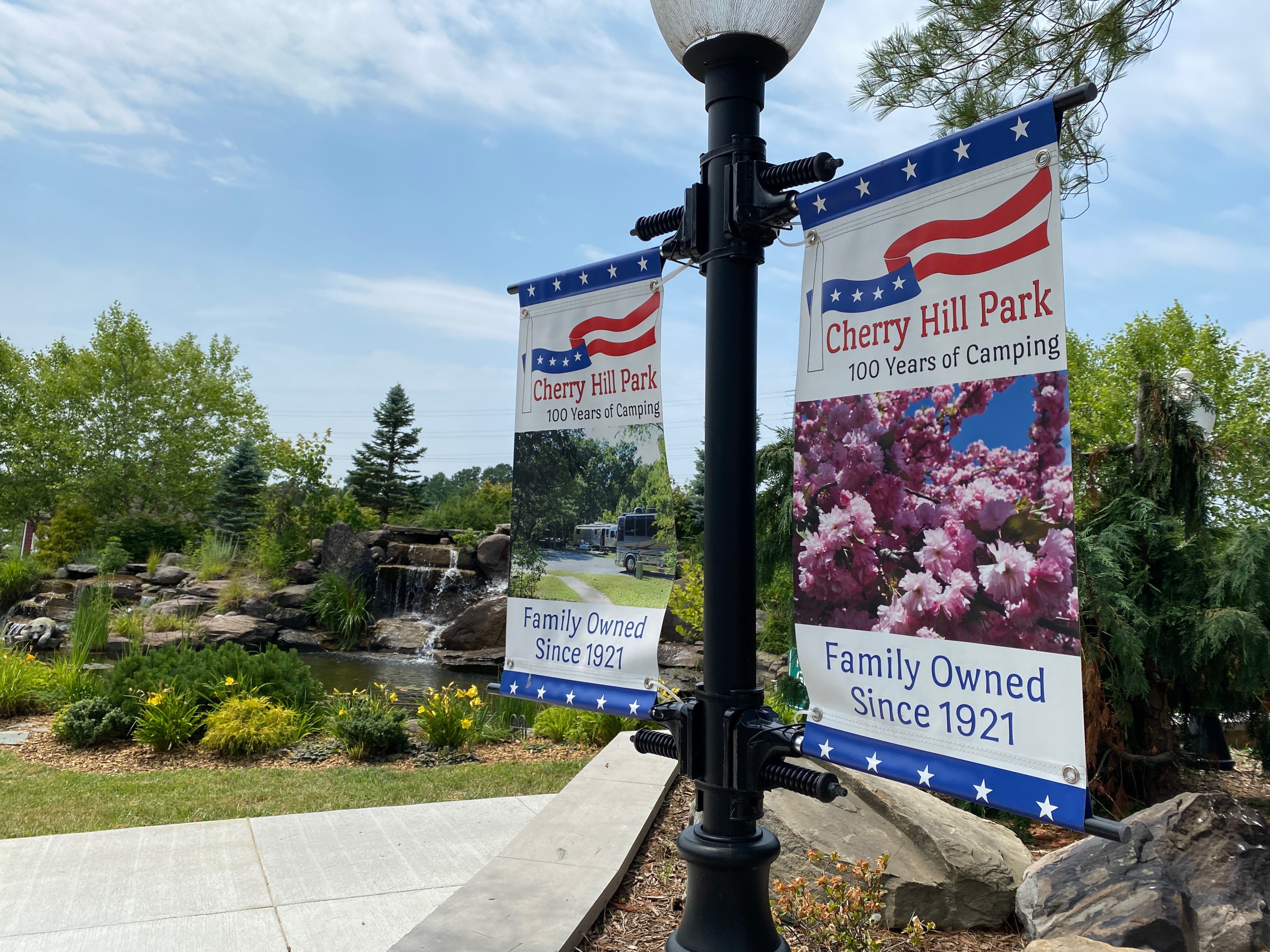 Photo: Kerri Cox
When camping, my family (which includes my husband and two young adult sons) has three main requirements: electricity, cell service and a safe, clean environment. Beyond these, our favorite campgrounds have run the gamut from rustic state parks to over-the-top resorts, as we easily find things to enjoy about each. Our goal is constantly to find ways adjust our expectations for the type of park we are visiting.
After a quick check on the Good Sam website, it was clear that Cherry Hill Park should easily meet our initial requirements — and more with high Good Sam ratings on all aspects. But would it live up to our expectations in person?
Cherry Hill Park Campground Vibe
Upon pulling into Cherry Hill Park, it was clear from the start that this park aims to impress. The check-in process was easy, the campground store was chock full of fun stuff, and everything was bright and clean. If I had to pick one word for my first impression, it would be "tidy."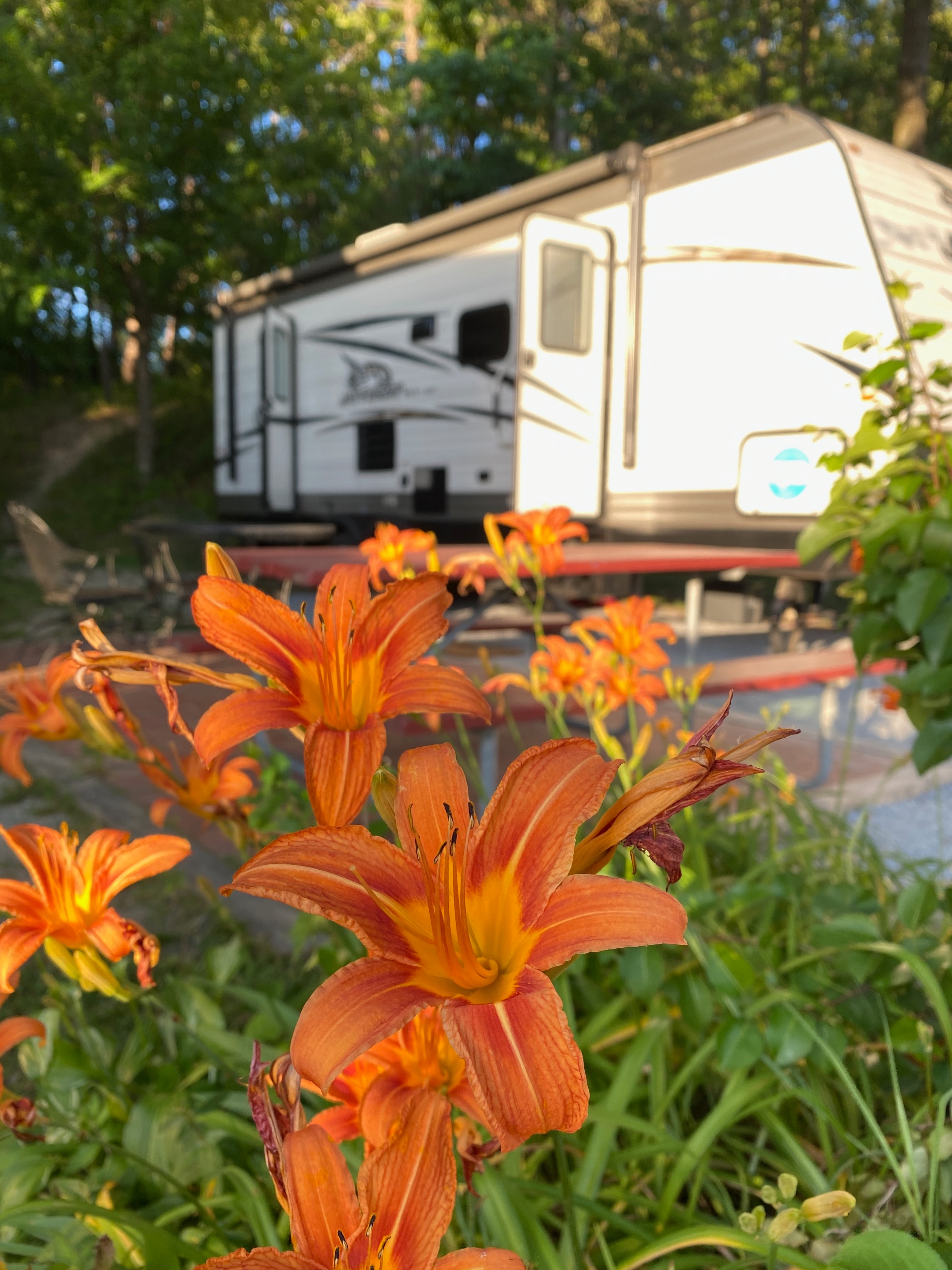 Photo: Kerri Cox
Going deeper into the park while heading to our spot, we noticed how big the park is; however, despite its size, the sites are mostly well-spaced. Thanks to a mix of curves in the road, plentiful trees, and colorful landscaping, the sites felt cozy and unique, unlike the cookie-cutter, sterile sites found at some large resorts.
Cherry Hill's atmosphere reminded me of my childhood, growing up in a 1970s suburban subdivision, where the kids played in each other's yards until the street lights flickered on at dusk. In the campground, I spotted kids swinging in the playgrounds, dashing through sprinklers at the splash pad, and biking the loops with siblings and buddies, as adults lounged around campfires. 
Even with D.C. a short drive away, it is clear this is a campground where families can spend time together. While the convenient proximity to the city and family-friendly environment are plusses, they can be drawbacks to some travelers. Cherry Hill Park is located just off some major roadways, so you will find some road noise. It is also a busy park, with quite a lot of traffic. 
If you are seeking solitude and silence, this probably isn't the park for you. However, my family spent time outside, gathered around a campfire with friends we had serendipitously bumped into at the park. We didn't find the noise or activity bothersome for our tastes. The bustle was just what we were expecting at this family-friendly campground.
Campsites at Cherry Hill Park
Cherry Hill Park offers a mix of RV and tent sites, cabins, and glamping accommodations. RVers will find full hookup sites, including back-in and pull-through options. Premium sites include a charcoal grill, a brick patio, extra table and chairs, and convenient locations in the park.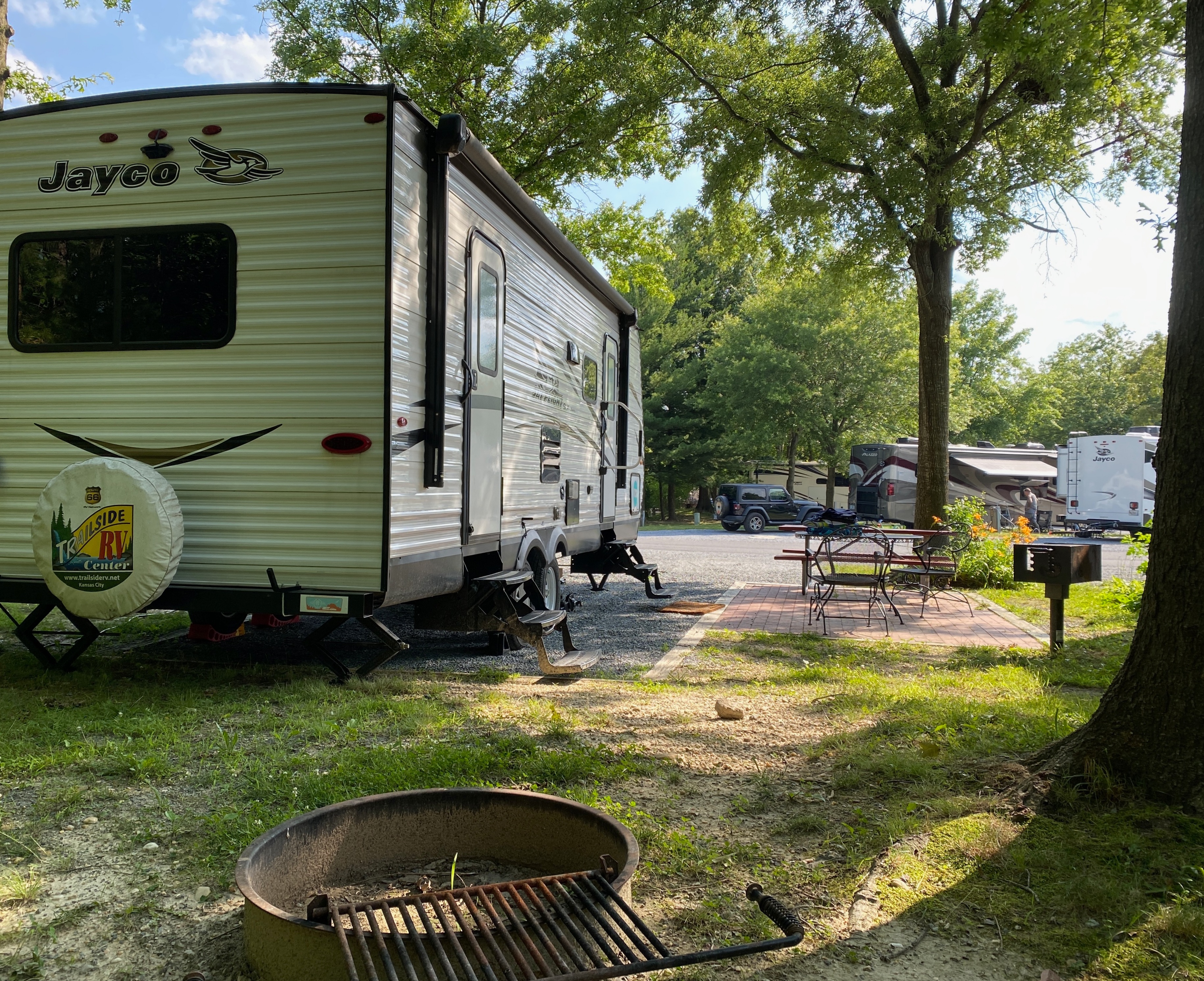 Photo: Kerri Cox
If space and privacy are important to you, call ahead to see what sites are recommended, as some are smaller and tighter than others. Some are also located near busy amenities, which can be a plus if you want to walk to them with your kids or a drawback if you prefer less traffic. With so much variety in the campground, it's best to talk to a park employee to find the right location for you. 
We opted for a back-in premium site on the edge of the park, figuring this would be a quieter, semi-private location. We appreciated the coral daylilies blooming along our patio. Behind us, dense trees provided a taste of nature, and we could easily hop on one of the park's trails. Our campsite was quite charming.
Facilities & Amenities
Cherry Hill Park is chock full of amenities. While many are items that can be found at resort-level campgrounds across the nation, what makes this park especially unique is how it caters to D.C. travelers in multiple ways.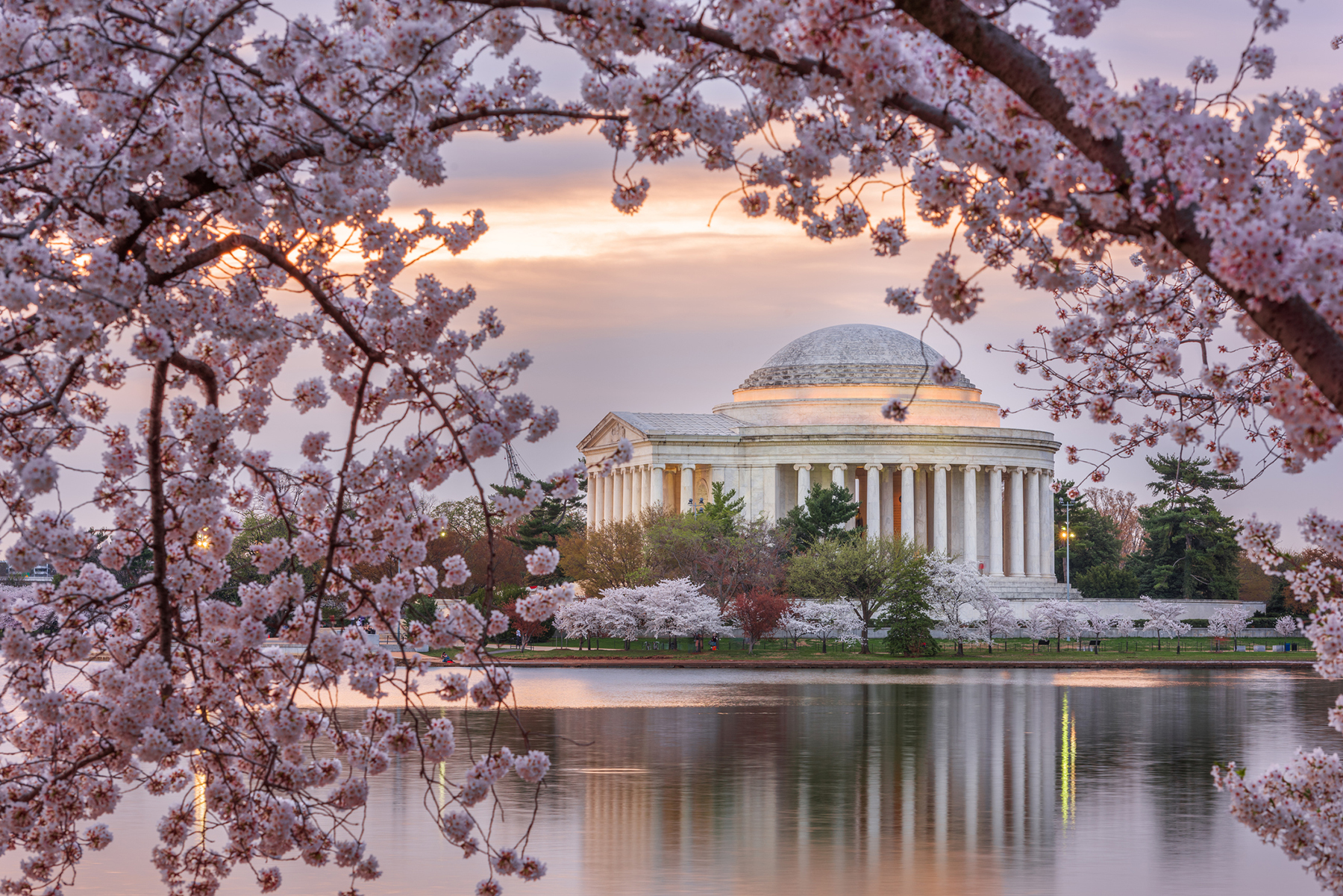 Jefferson Memorial in spring. Photo: Kerri Cox
Cherry Hill Park aims to make it easy to get the most out of your D.C. visit. The campground offers information sessions that provide tips and tricks for navigating the city and its many attractions. We decided to take the Metro into the city from the nearby College Park station.
Cherry Hill Park also operates its own express bus, which drops riders off near D.C. attractions in the morning and provides return transportation in the evening. Or, you can take one of the campground's guided excursions, with a variety of sightseeing tours offered seasonally.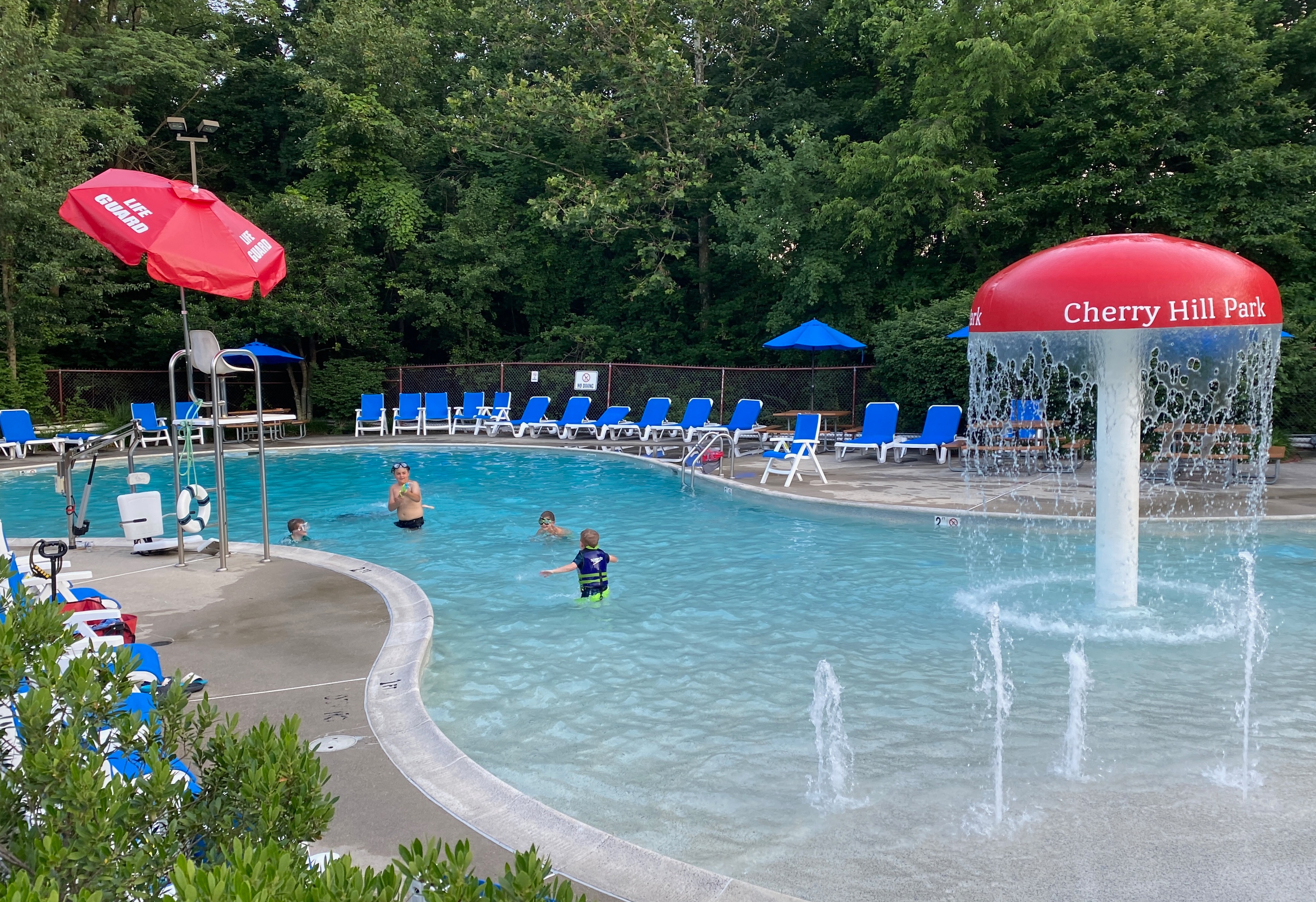 Photo: Kerri Cox
While you might spend a lot of time in D.C. while staying at Cherry Hill Park, it's advisable to also plan some downtime in the park. Kids will appreciate the various pools, playgrounds, splash pad, game room, tractor rides, and miniature golf course. Teens and adults can enjoy the fitness areas, walking trails, dog runs, golf cart rentals, and onsite cafe (which even offers online ordering and campsite delivery). Seriously, the list goes on and on!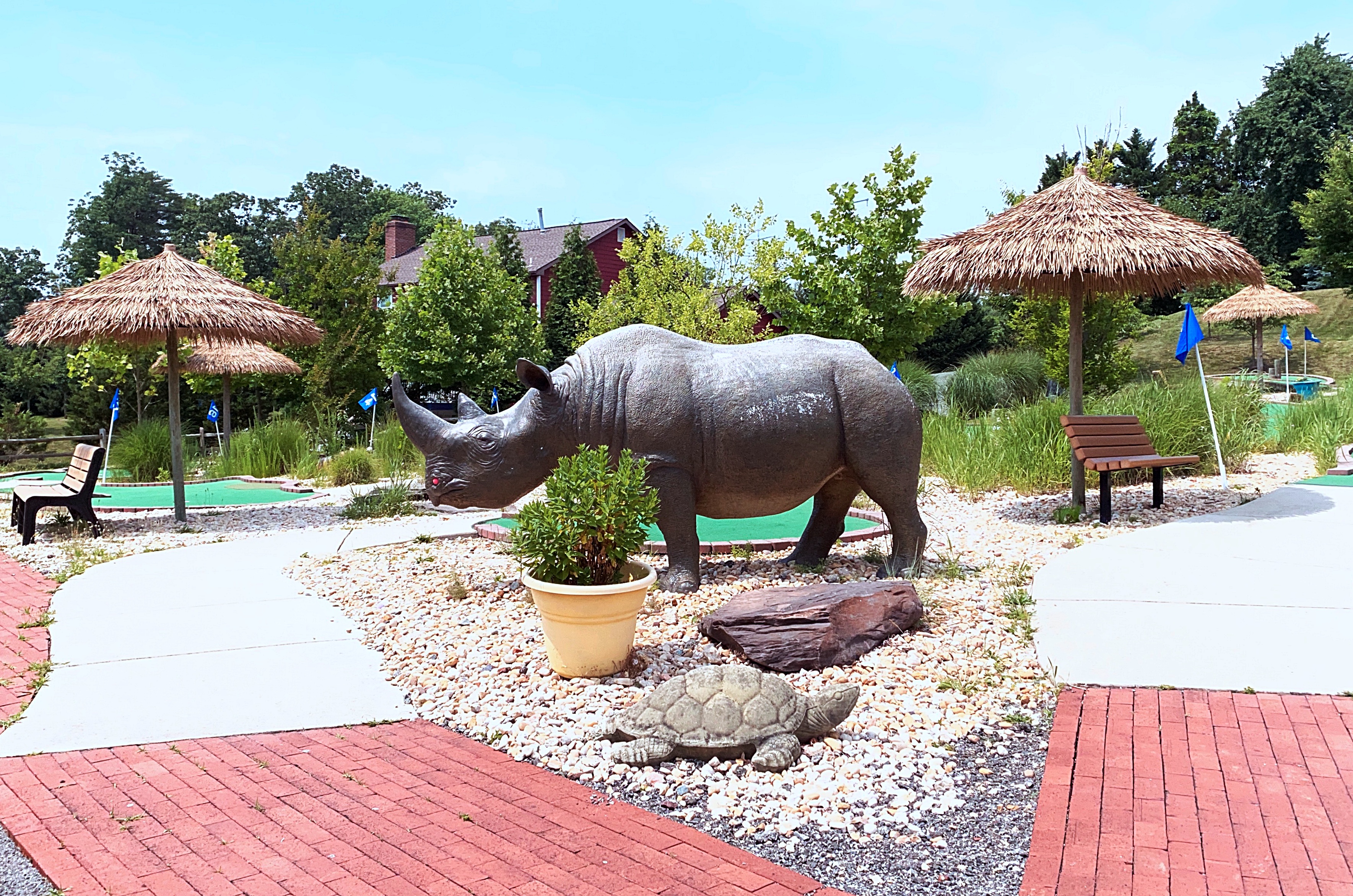 Photo: Kerri Cox
My family was not only impressed with the breadth of the amenities and activities, we were also impressed with the quality. Everything is well-maintained and thoughtfully planned. We also found the customer service to be top-notch. This level of care and consideration is what makes Cherry Hill earn those good reviews that reached our ears long before we began researching our travel plans. 
The Bottom Line
Cherry Hill Park obviously caters to D.C. travelers, but this campground is a destination in its own right, especially for families. This park deserves a visit, whether you are touring the capital city or not.
The post Campground Review: Cherry Hill Park Near Washington, D.C. appeared first on Good Sam Camping Blog.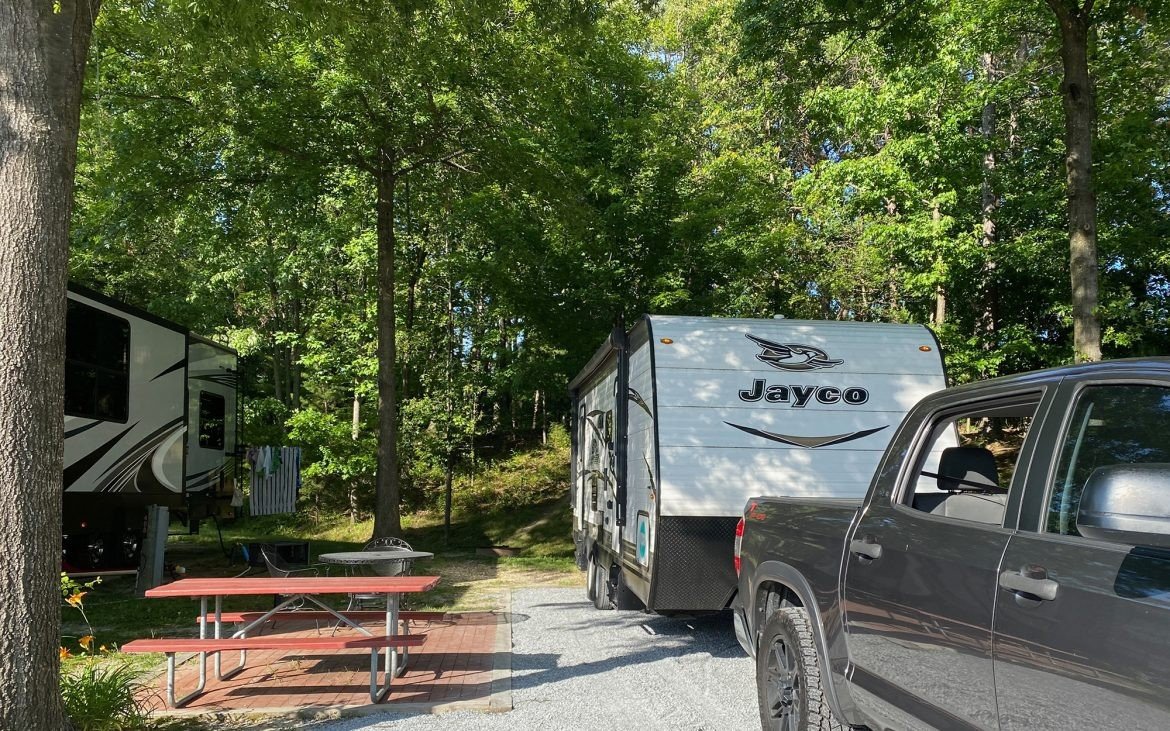 Copyright
© Good Sam Camping Blog