WEnRV travel news, products, and industry trends
Stay up-to-date on RV travel news, products, and trends from around the world. Stay updated on all RV news from many online source, on WEnRV.com
5 minutes reading time
(1071 words)
Prince of Tucson RV Park: Experience Arizona's Wild Side
Welcome to Tucson, Arizona, where towering cacti defy gravity and Mexican food takes flavors to new heights (this is the birthplace of the chimichanga, after all). Visitors can travel back in time to neighborhoods dating back to the 1600s or follow trails that stretch hundreds of miles past prickly plant life. See stars at one of North America's premier observatories or experience gravity zooming on bicycles down winding desert trails.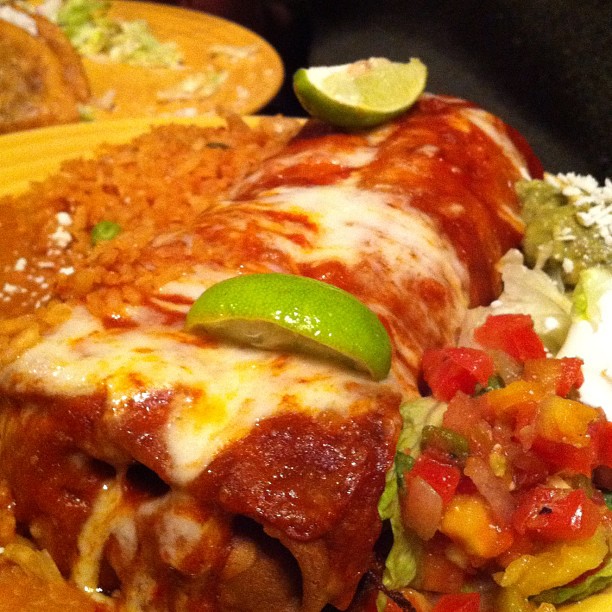 El Charro Café's iconic chimichanga. Photo: flickr.com/photos/adactio.
Campers can find a spot near the heart of Arizona's second-largest city. On the northwest side of Tucson near Interstate 10, the Prince of Tucson RV Park welcomes RV travelers seeking adventure. From here, guests are within minutes of some of Tucson's best urban attractions or nearby national parks. As the sun sets, the campground's amenities keep guests comfortable and recharged for the next day's adventure.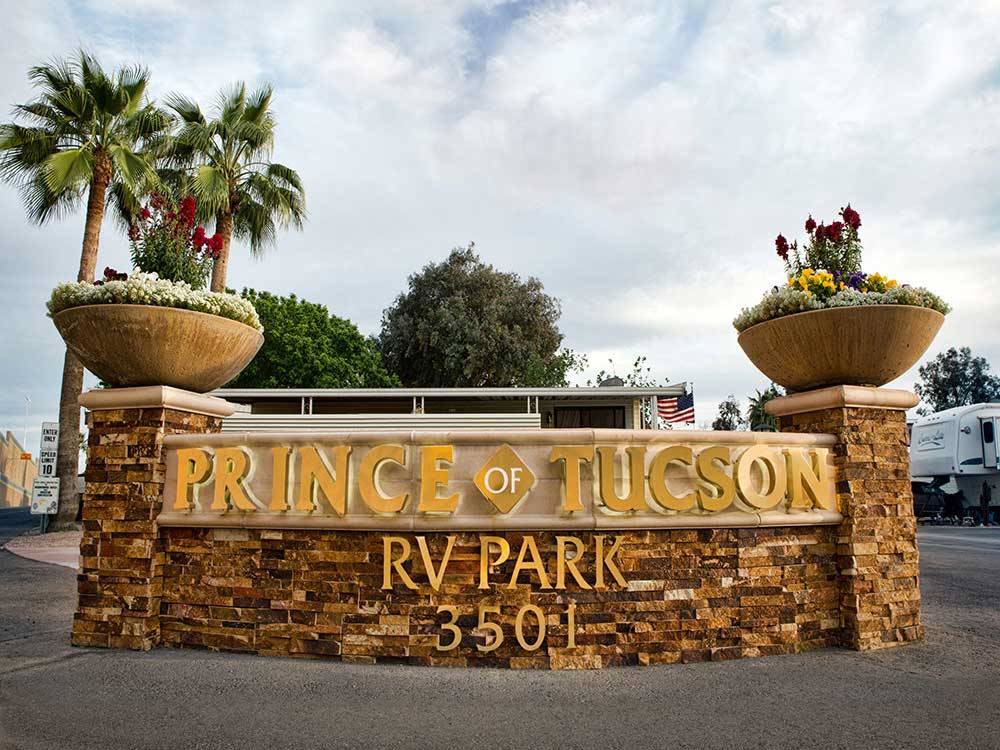 Prince of Tucson
Pincely Camping
Prince of Tucson maintains a beautiful environment with lots of conveniences. The paved, all-weather roads lead travelers to a wide range of RV sites, which accommodate everything from tent trailers to big rigs. Each of the 176 spaces has full hookups with 30- or 50-amp power; back-in sites have patios and picnic tables, with plenty of room for slideouts. All of the 42 Pull-through sites stretch 80 feet. Note the RV age restrictions.
Convenience is key here, with two modern laundry facilities onsite, restrooms and showers, and a self-service RV wash. Stock up on RV supplies and ice at the campground store and log on to the Wi-Fi available throughout the main building. Take advantage of the campground's dump station.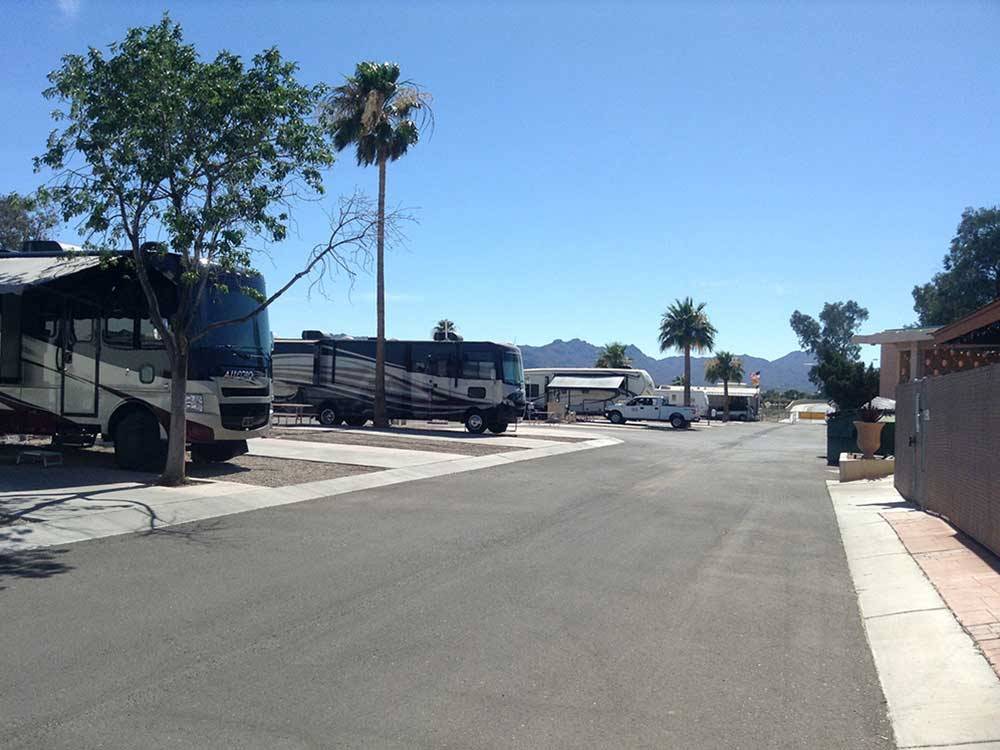 Prince of Tucson RV Park
The campground's heated pool and hot tub serve up relaxation after a long day of exploring, while the rec hall provides fun games for all ages. Fuel your competitive spirit in the game room (with pool table) or shuffleboard court, or get social with campground activities. Relax in the lounge with Dish TV, or stretch your legs on one of the walking paths that snake through desert landscapes. Dogs are welcome here, although there are some restrictions on breeds (check the RV park before making reservations).
The park has received high marks for customer service; staffers are happy to inform guests about surrounding attractions.
Colossal Cacti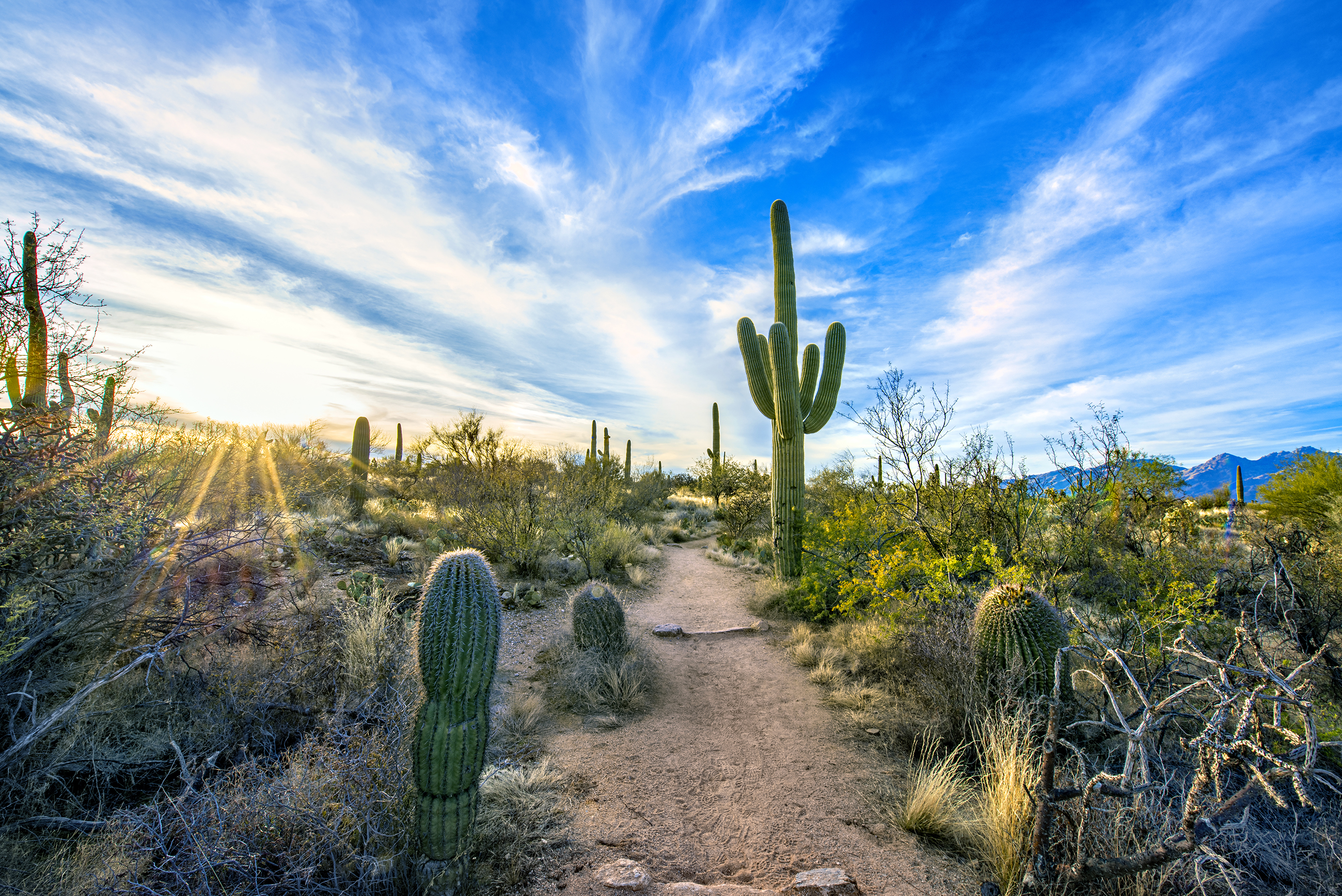 Saguaro National Park. Getty Images
Saguaro National Park occupies two separate units, one to the west of town and the other to the east. Both units are just minutes away from the RV park. Saguaro National Park preserves its towering namesake plant, which can soar as high as 60 feet and weigh almost 5,000 pounds. Hikers can get close (but not too close) to the spine-covered plants via 128 miles of hiking trails through the 91,327-acre park. In the east unit, visitors can take a spin on the Cactus Forest Scenic Loop Drive, a paved, 8-mile road that leads to trailheads, scenic vistas and pullouts. Saguaro National Park West is popular for cyclists who navigate the park's roads and some of the multi-use trails.
Kitt Peak Perfection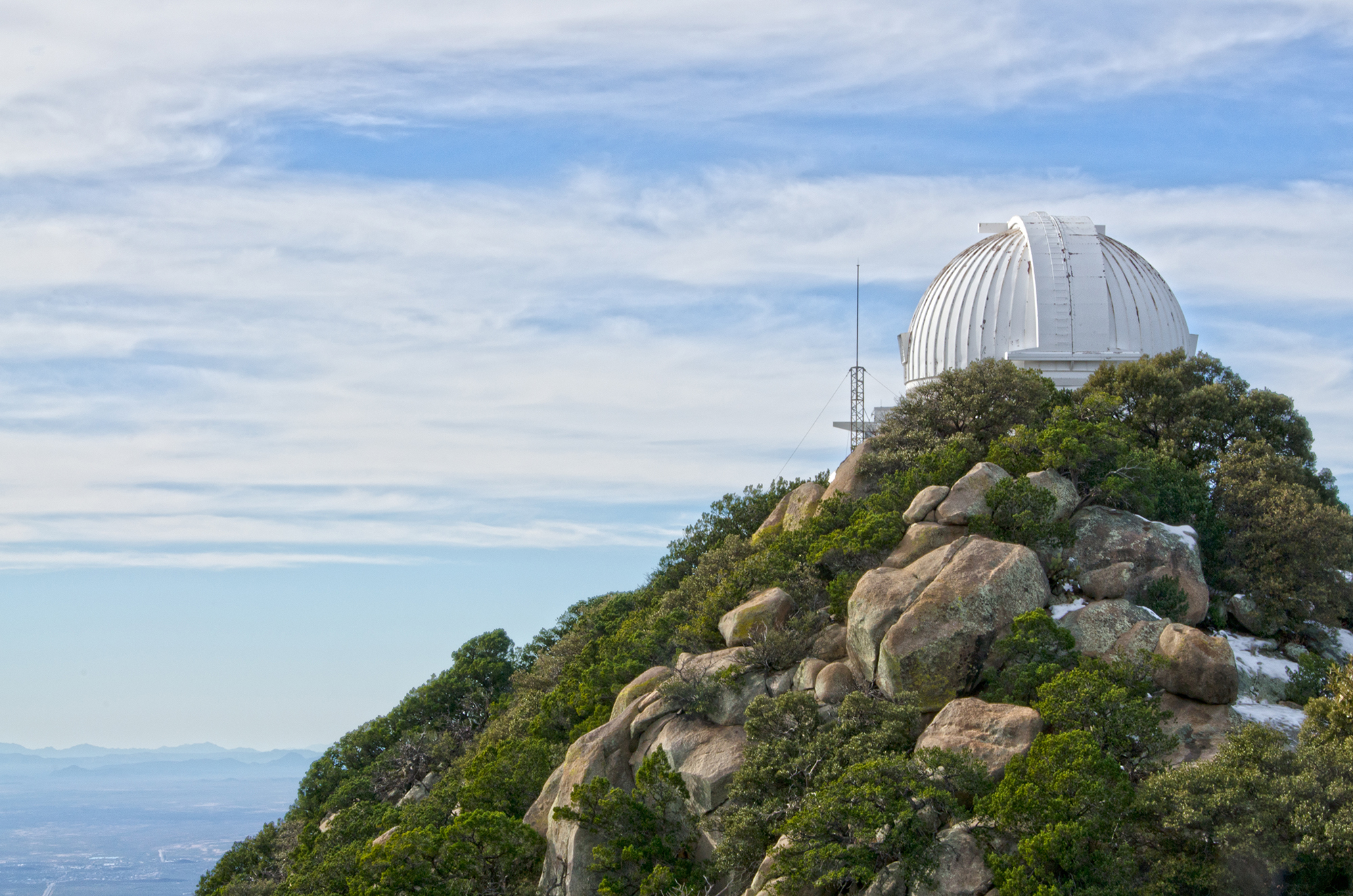 Kitt Peak National Observatory. Getty Images
Astronomy buffs should head to the Kitt Peak National Observatory, home to the largest array of optical and radio telescopes in the world. Perched on the summit at 6,877 feet above sea level, the complex includes exhibits, a gift shop and stunning views of the surrounding landscape. The popular nighttime program invites visitors to watch a glorious sunset and use planispheres and binoculars for crystal-clear views of constellations, planets and stars. Visitors also view the night skies through the 0.5-meter telescope and the Roll Off Roof Observatory's 0.4-meter, 16-inch telescope. In 1972, Pima County enacted a "dark sky" code limiting the brightness and number of outdoor bulbs, ensuring clear skies for star watching.
More Mountains
The 2,900-foot Sentinal Peak looms over downtown Tucson and once served as a lookout point for Hohokam Indians and Spanish settlers. The peak is distinguished by the large "A" placed there by University of Arizona students in 1915. The 1.7-mile Sentinal Peak Paved Loop trail takes hikers and bikers around the summit for outstanding views of the surrounding area.
Two-Wheel Fun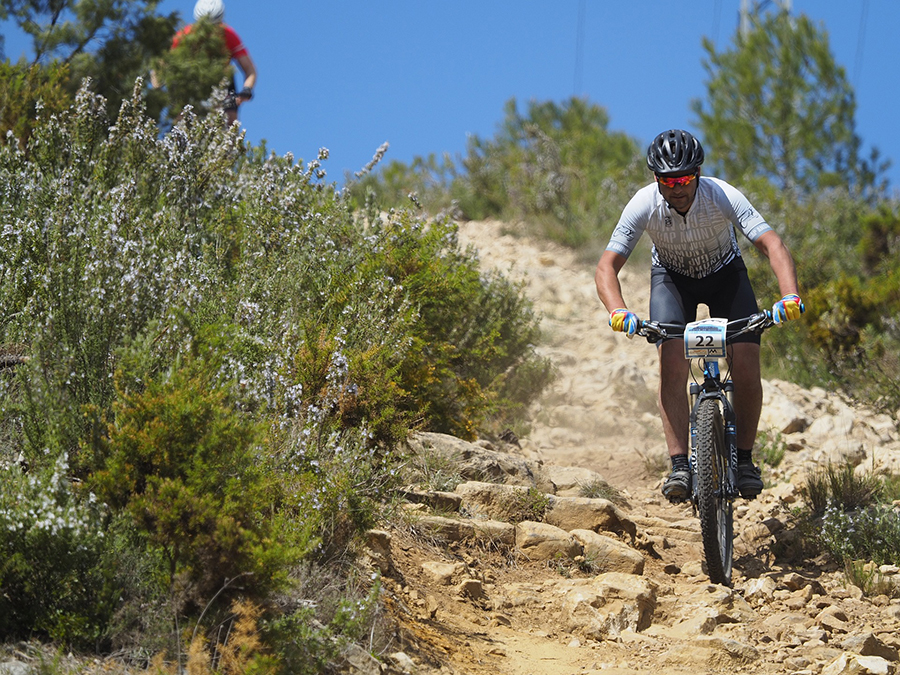 Photo: vmicoroda
For cyclists, Tucson is unmatched, with 100-plus miles of paved trails winding throughout the city. Riders will find trails for every skill level in the surrounding mountains, with plenty of technical climbs, steep downhill descents, backcountry rides and singletrack. On the town's western outskirts, the Sweetwater trail system leads riders through diverse terrain, serving as an excellent introduction to the area.
Spanish Colonial Past
In the 1600s, Spanish settlers left their mark on the town with elegant missions and military structures that stand to this day. Visitors can start at Presidio San Agustín del Tucson Museum, once an 11-acre Spanish Fort with reconstructed walls and a lookout tower built to original dimensions. From here, a small handful of Spanish soldiers fought off 400 attacking Apache in 1782.  Nearby, the Old Town Artisans — a collection of arts and craft shops — display goods made with centuries-old methods.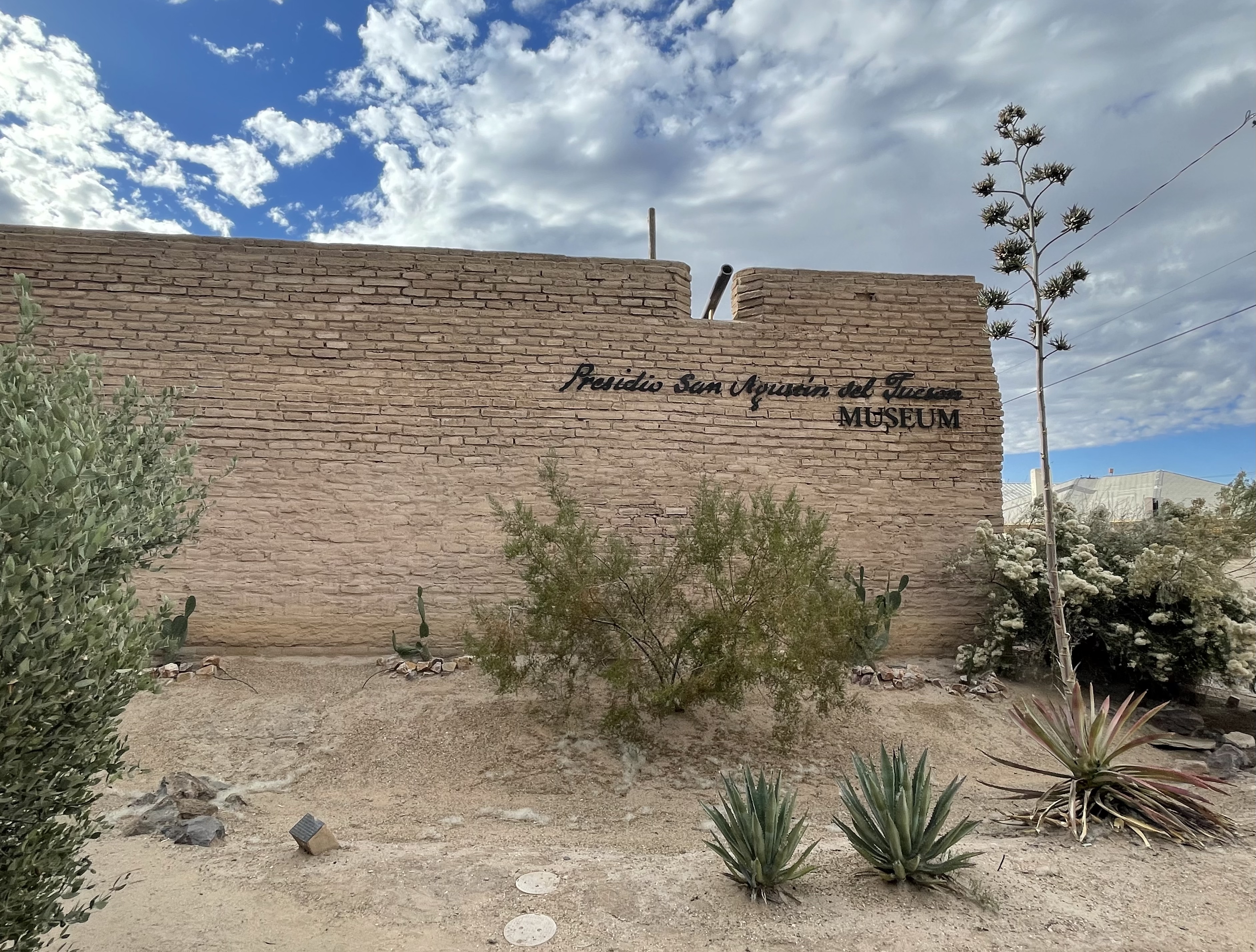 Presidio San Agustín del Tucson Museum. Photo: Richard N Horne
Chimichangas and More
For foodies, no visit to Tucson is complete without a visit to El Charro Café, the city's oldest Mexican restaurant located just a few blocks from the presidio. According to local lore, the chimichanga was invented here in the 1920s when Monica Flinn, the restaurant's founder, accidentally dropped a burrito into a deep fryer. The happy accident resulted in an internationally famous plate that is served in the restaurant to this day. To the north, the Parish restaurant cooks delicious Southwestern food with a Cajun twist.
Tucson Architectural and Artistic Attractions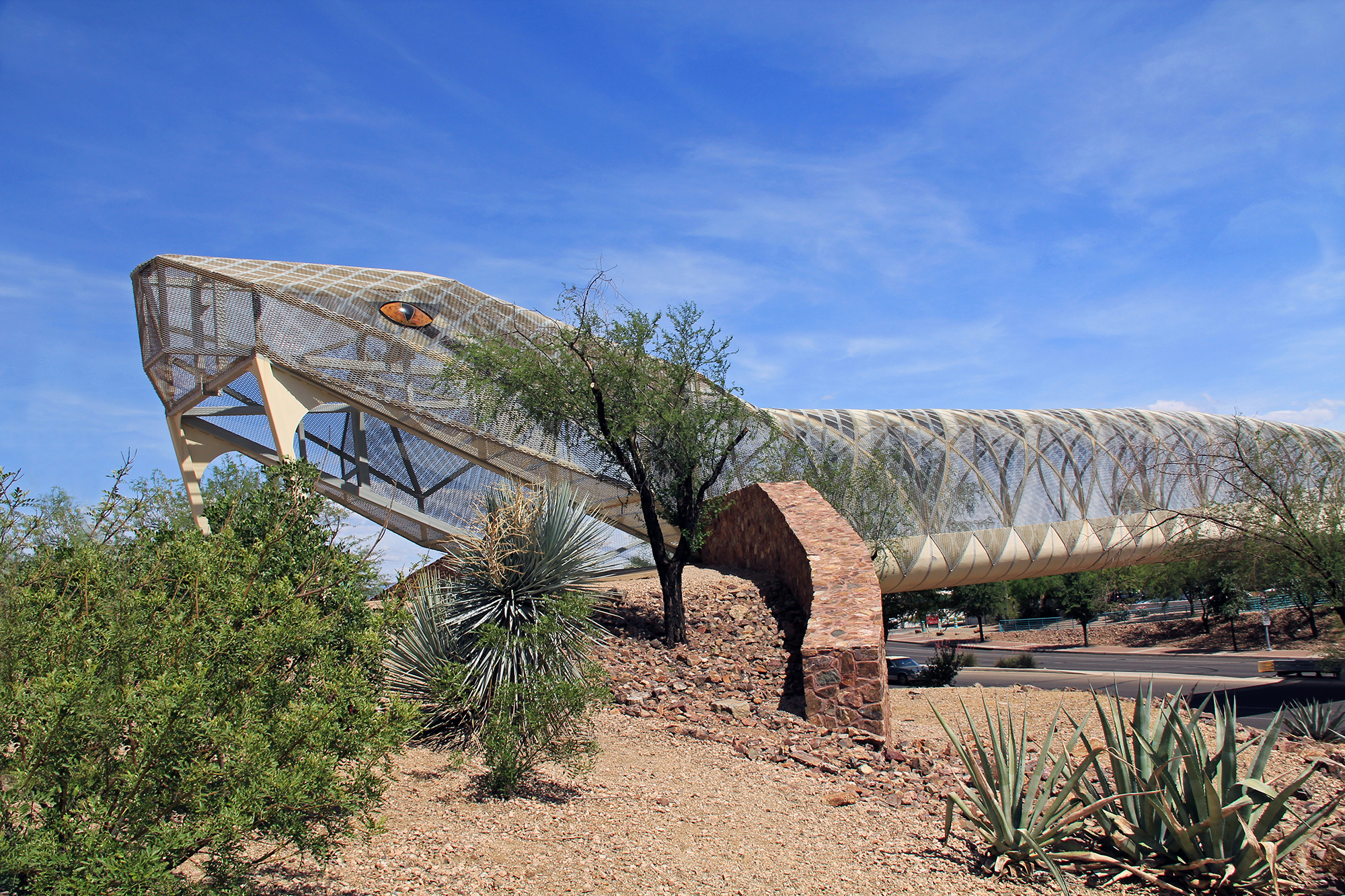 Rattlesnake Bridge. Getty Images
While Tucson lovingly preserves the past, it also reaches toward the future with dazzling architectural designs. Take a walk or ride a bike on the Rattlesnake Bridge, a metal pedestrian span in the form of a giant diamondback that crosses East Broadway Boulevard. Enter or exit through the gaping jaw, complete with fangs.
Equally spectacular is the Desert O Sculpture, a solar-powered structure in the shape of a donut that shines with an array of vibrant colors. During the evening, the O's light show can't be missed. For a photographic tour of Tucson, travel the Fourth Avenue Underpass, with about 7,000 tiles bearing black-and-white portraits of 21st-century Tucsonans.
The post Prince of Tucson RV Park: Experience Arizona's Wild Side appeared first on Good Sam Camping Blog.
Copyright
© Good Sam Camping Blog