WEnRV travel news, products, and industry trends
Stay up-to-date on RV travel news, products, and trends from around the world. Stay updated on all RV news from many online source, on WEnRV.com
7 minutes reading time
(1401 words)
The New Good Sam Campground Guide Is Here
Those familiar with Good Sam's comprehensive campground and coupon guide know the value and information contained within this single publication. Now the latest edition, its 88th, is available to campers and RVers everywhere with new and improved design and content. 
With information for over 12,000 private RV parks, public campgrounds, and services, including 2,000 Good Sam Parks — and over $1500 in coupons — there's enough to keep any RVer's itinerary full and affordable for far longer than a single season. 
So what should campers and RVers expect to find in this latest release? The Good Sam North American Campground Guide features over 300,000 campgrounds, ratings, and map updates, plus savings and discounts, and more — with this issue including new special features that can improve and enliven campers' North American travels.
With the use of this guide as a hands-on resource, campers can plan trips, save on costs, and gain access to endless locations and itineraries all across North America. Let's check it out. 
What's New

Wildsam
Perhaps the most notable update to the new campground guide is the inclusion of Wildsam, the newest addition to Good Sam's team of travel and camping experts. The field guides from Wildsam bring an expert approach to new places, and at the beginning of each section of the campground guide, they offer a more in-depth analysis of each location, including a recommended event, restaurant, outfitter, drink, institution (museum), and scenic route for each state. 
Wildsam is known for its American Travel Guides — charting regions, cities, landscapes, national parks, and more — and for having a keen eye for the offbeat details of a place that make it special. Their expertise is a welcomed addition to this publication and provides travelers an even closer look at each state consistently across the Good Sam Campground Guide. 
New Look
If you are familiar with the previous versions of the Good Sam Campground Guide, you'll notice a distinct change in aesthetic with this new edition. A clean, modernized cover has replaced previous designs, and the new look favors full images on the front and back covers. Inside: a prevalence of full-page featured images at the start of each new state section. 
The new edition also includes full pages featuring such locations as Joshua Tree National Park, Glacier National Park, and Little River Canyon, with a brief written chronicle for each.
What's Improved
Improved Discounts
In this new edition, Good Sam has upped the ante when it comes to the savings offerings at Camping World and RVs.com retail and dealership locations. All coupons considered, the total value adds up to $1500 in potential retail savings. Find coupons for such items as new and used RV purchases, camping equipment, mattresses, subscriptions, Good Sam products, and more. 
$75 Towards Free Camping
The purpose of the Good Sam Campground Guide is to make camping easier, more affordable, and more meaningful for RVers and campers. So what better way to promote the camping lifestyle than to include three coupons for a free night of camping ($25) for a total value of $75, more than offsetting the price of the guide? 
What's Inside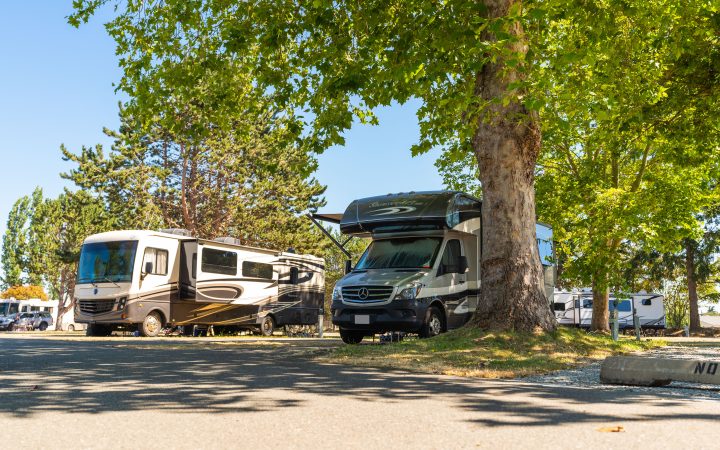 Those who have previously used the Good Sam Campground Guide will be pleased to find the same well-organized, easy-to-navigate content that makes finding and evaluating campgrounds across North America simple and easy. 
Listings
The guide functions as a campground directory organized by state and lists the campgrounds alphabetically. The listings for each campground include such information as the nearest town name, map coordinates, county name, facility name, ratings, the type of facility and management, and directions. Below these identifiers, you will also find special information about the campground, including interior roads, a description of the site, previous rates, RV restrictions, and more. Lastly, the listing includes the contact information for the campground.

Have more questions about navigating the directory? Refer to pages 4-5 in the guide and find a complete explanation of how the listings work, including tools like an abbreviation key, an anatomy of a listing, and information for advertisers.
State Guides
The beginning of each state section includes several helpful regional guides that provide helpful information that can add value to your trip.  Find an overview with notable state history, attractions, and features, a suggested road trip with estimated drive times and distances, and state spotlights that showcase the best each state has to offer travelers, including activities, where to visit, and other notable highlights. 
This section also lists all the Good Sam Campgrounds within that state so members know where to apply their 10% campground discount around the state map. 
Ratings
Part of the publication's value comes from the convenient, brief, and annually-updated ratings given for each Good Sam campground in the directory. With the Good Sam Triple Rating System, you can easily deem a campground's visitability based on a thorough review conducted by a Good Sam representative. 
Curious how Good Sam campground ratings work? Lucky for us, the guide features an in-depth explanation with a full-spread infographic titled Good Sam Ratings 101, located on pages 6 and 7 of the campground guide. It provides information on rating categories like facilities, restrooms and showers, and environmental/visual appearance, all helpful to understand why a campground was given its rating. 
See these 197 RV parks that have scored a perfect rating in the last year. 
Maps
Readers will find a map at the start of each state's section that includes notable points of interest such as campgrounds and other services, RV service centers, and Good Sam discount locations like campgrounds or Camping World and RVs.com locations. You'll notice a grid system on the edges of the map, and this will be referenced in the campground listings for that state to indicate a campground's location. 
Additional Features
The guide provides several handy additional features worth travelers' reference. Check out pages 10-11 for Good Sam's Rules of the Road segment, which is an at-a-glance reference for state-to-state laws pertaining to RVs and automobiles. 
And for those looking to attend a Camping World- and Good Sam-sponsored NHRA event this summer, find where your travels match up with the complete NHRA 2023 schedule, located on page 12. 
Lastly, with over 1,000 pages of information and savings, it helps to have an easy way to find the content you want. That's where the Find-it-Fast Index comes in, offering 47 pages of indexed keywords to find what you need quickly, anywhere in the book. 
Savings & Coupons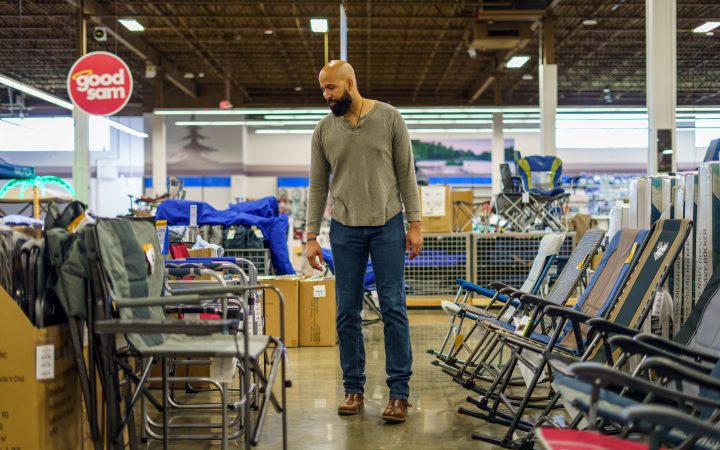 All about Good Sam Membership
While the Good Sam North American Campground Guide is still an excellent resource for Good Sam non-members, the real value of the campground and coupon guide is in tandem with a Good Sam membership, the annual cost of which is easily offset by only a few of the savings within the guide. The coupons in the guide help members get the best deals at any of the retail or dealerships they visit, not to mention all Good Sam members earn 10% off on all Good Sam Campgrounds. 
Consider that the cost of the Good Sam Campground Guide itself is marked at 65% off for Good Sam members as if there weren't enough encouragement already. Non-members pay $39.95 for the guide. Members pay $13.95. 
$1500 in Savings
So what are some of the coupons and savings you can expect that add up to over $1500? Let's take a look. These are a few of the most notable discounts you'll see, but know this isn't the comprehensive list of discounts and savings. 
$30 off a retail purchase of $200 or more 
Extra 10% off clearance coupon 
$500 RV trade-in bonus
20% off bikes
10% off appliances
Save 50% on Good Sam TravelAssist and Roadside Assistance
15% off heaters & firepits and Camping World and RVs.com
$1,000 off a new motorhome purchase
Get Your Copy at CampingWorld.com
With this much value-added content in the latest issue, the Good Sam North American Campground Guide is a useful and helpful hands-on tool any camper or RVer will benefit from. And for Good Sam members, the savings easily negate the affordable price tag.

Order your copy from campingworld.com and peruse well-over 1,000 pages of premium campground information, travel tips, location-specific content, coupons and discounts, and more. Well worth it for the conscientious traveler looking for the smartest way to travel well.
The post The New Good Sam Campground Guide Is Here appeared first on Good Sam Camping Blog.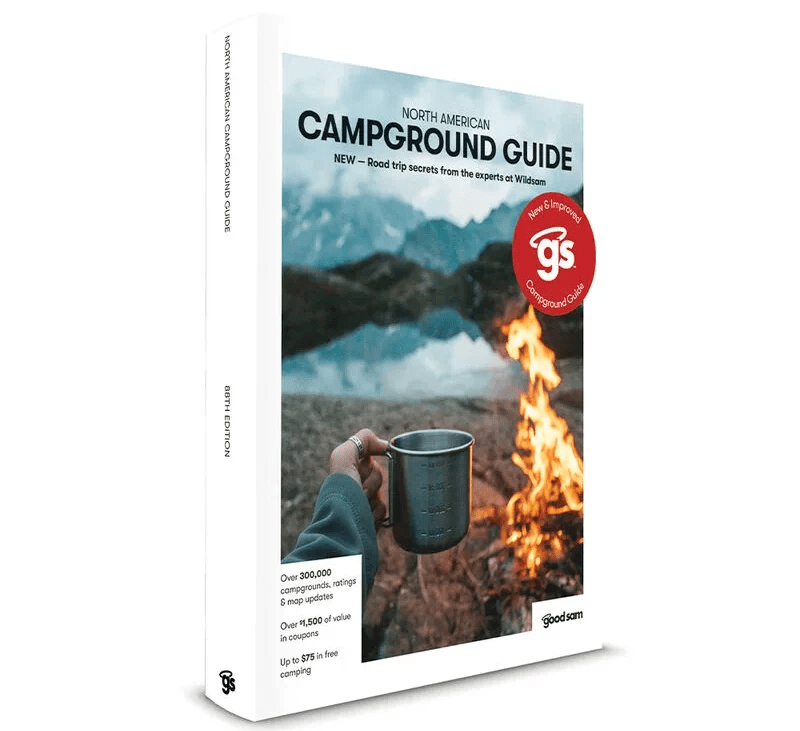 Copyright
© Good Sam Camping Blog